Global Challenge is an ambitious project to create a large bank of free-to-download Content and Language Integrated Learning (CLIL) resources to help English teachers around the world provide their students with worthwhile and stimulating classroom learning.
If you want to include issues of global contemporary importance, such as climate change, environmental protection, global inequality, emerging technologies, and so on, in your English classes, then these materials are designed for you.
We are pleased to report that, since our launch announcement in January 2023, our learning activities have been downloaded thousands of times, and our registered membership list now includes over 450 teachers in the following 78 countries around the world. To date, each of these teachers has downloaded an average of approximately 90 hours of classroom materials to use in their classrooms, day in and day out!
We have members in:  Algeria, Argentina, Australia, Austria, Bangladesh, Bosnia and Herzegovina, Brazil, Brunei, Bulgaria, Canada, Chile, China, Colombia, Costa Rica, Croatia, Cyprus, the Czech Republic, Denmark, Ecuador, Egypt, Ethiopia, France, Germany, Greece, Guatemala, Hong Kong, India, Indonesia, Iran, Iraq, Ireland, Italy, Japan, Kazakhstan, Kuwait, Lebanon, Lithuania, Macedonia, Malaysia, Mexico, Mongolia, Morocco, Myanmar, Nepal, the Netherlands, Nigeria, Oman, Pakistan, Panama, Peru, the Philippines, Poland, Portugal, Qatar, Romania, Russia, Saudi Arabia, Senegal, Serbia, Singapore, Slovakia, South Africa, Spain, Sudan, Sweden, Switzerland, Thailand, Tunisia, Turkey, the UAE, the UK, Ukraine, Uruguay, the USA, Uzbekistan, Vanuatu, Venezuela and Vietnam.
(map image Freepik licence 32232839)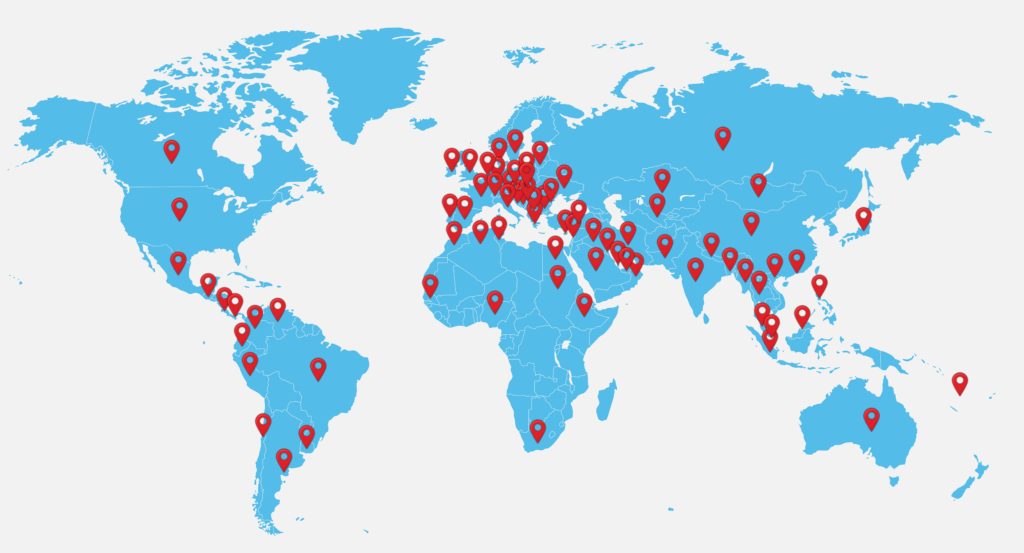 Global Challenge CLIL materials encourage young learners to understand and engage with topics in a mature way, and to believe that they can proactively work to improve the world.  Each learning pack consists of about 100 pages of informative and thought-provoking texts, creative and critical thinking tasks, and fun activities and games, which can be freely photocopied and used in class.  Here's what Kelly, one our members in Turkey, says about using Global Challenge materials in her classes:  "I have used several of the resources with teenagers over the course of the year and have found the materials to be both pertinent to their interests, and at the same time, stretching their knowledge and language skills.  There's also been a positive response to these materials when students know in advance that they are working on a Global Challenge topic. I call that a definite 'win' with teenagers!"
The following SIX learning packs, consisting of over 700 pages of learning materials, are now available to download free of charge.  All of our materials have been created for learners with IELTS reading scores in the range of 4 to 6.  Although designed primarily for use with young people in the 8-14 year age range, they can also be used with students who are considerably older:
The Future of Cities
Protecting Biodiversity
How People Live Around the World
Looking After Ourselves and the Planet
Our Changing Communities
Where is Science Taking Us?
All you need to do is sign up to access Global Challenge learning packs.  Then, bookmark this page in your browser, and login to the Grange website for regular updates.
"Our teaching and learning materials are provided free of charge because we believe that cost should not be an obstacle to young people's learning – especially when it comes to learning about issues of such pressing importance for the world's future."
If, after downloading and using Global Challenge materials, you would like to show your appreciation, please consider donating to an established charity that supports children's well-being around the world, such as UNICEF.  Check out the UNICEF website at: https://www.unicef.org/.
We shall continue to promote Global Challenge using LinkedIn, revising materials on the basis of user feedback, so watch out for our LinkedIn announcements every month or two, and please do feel free to forward the link to your friends and colleagues, so that they can become Global Challengers, too!   If you have already logged in, you will be automatically directed to 'Members' Pages' in future.
At Grange Education, we have a vision. Our vision is to provide young people around the world with access to free-to-download, good quality English learning materials with a focus on issues of global contemporary importance. Such is the multiplier effect of teaching that for every teacher who registers with Global Challenge, hundreds of students can benefit from the learning materials they download. It is our aim to help 100,000 students around the world in this way in our first year of operation. With your help and support, we can reach this target!